Using the Nikon D3200 as your first DSLR camera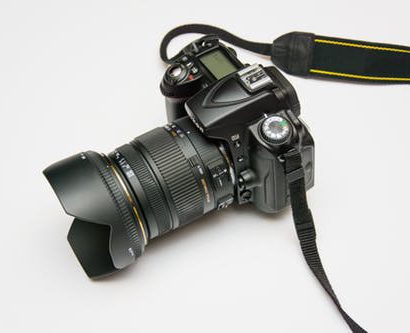 Product: Nikon D3200 24.2MP Digital SLR Camerakit w/ 18-55mm VR lens
Price: $250-$549
Cheapest Place to Buy: Amazon
Size/Dimensions: 3.80" x 4.90" X 3"
Weight: 9.3 lbs
Guarantee/Warranty: 1-Year SquareTrade Warranty
My Rating: 9/10
Product Specifications
24.2 Megapixel DX-format CMOS Image Sensor
ISO sensitivity range 100-6400, expandable to ISO 12800 equivalent
Fast and accurate shooting with 11-point Autofocus System
Compact and Lightweight Design
Full HD 1080p30 video (with 25p and 24p options)
Compatible with SD, SDHC and SDXC cards
4 frames per second in Continuous Shooting Mode
Standard, Neutral, Vivid, Monochrome, Portrait and Landscape Picture Controls
6 Automatic Exposure Scene Modes – Portrait, Landscape, Child, Sports, Close-up or Night Portrait
In-camera Image Editing
Built-in pop-up flash
Automatic Image Sensor Cleaning
Overview
I purchased the Nikon D3200 over six months ago when I took my first photography class as part of my graphic design degree that I was pursuing. Next to my cell phone's built-in camera, it's the first dslr camera that I've ever owned and so far, I've been relatively satisfied with its level of high quality pictures and videos.
I remember when my academic counselor registered me in this class months in advance and explained to me how I would need a digital camera. For someone who was taking their first photography class ever, I wanted a quality camera to use, but nothing over complicated as a beginner, and at an affordable price. I was fortunate to find this model pre-owned for about $300.00,which included shipping and a year long warranty, which was another bonus.
In addition to the camera, my package also included an 18-55mm NIKKOR zoom lens, along with the carrying case, rechargeable li-ion battery and charger, camera strap and A/V cable. Afterwards I went out to my local electronics store to pick up SanDisk memory card for storing my photos and videos on.
Appearance
Holding it for the first time, It has a nice grip to it for using it as a handheld and is very lightweight for its size. Even with the Nikkor Zoom lens attached, the camera never feels heavy, or weary, as I can continuously hold it for hours, even with it attached to my neck with the camera strap. The extra, rubber texture on the right side of the camera body provides my fingers with a better grip while I'm looking through the viewfinder, while adjusting the zoom lens with my right hand.
It includes a fixed 3-inch LCD display screen on the back for taking low angle, high angle and other angle shots. The camera adjusts nicely whether you're taking your photos in daytime or at night with limited lighting. The camera comes with the ports for the rechargeable battery, the memory card, and another slot for different connectivity ports (HDMI, USB, etc) with a protective flap.
Initial Setup
With this being my first real dslr camera, setting up wasn't as complicated as I thought, as I relied both on the user manual that shipped with it and of course, Google and YouTube for further walk tutorials. I initially charged and inserted the battery, along with a SanDisk 16GB SDHC Memory Card that I purchased the previous evening.
The 18-55 VR Zoom lens was already connected to the camera body when I removed it from the carrying case and bubble wrap – but I still went to YouTube to reinforce how to connect and disconnect it for further use, or for possibly switching lenses down the road.
I recommend starting off in guide mode for beginners, which is what I did, to get familiar with everything from taking shooting pictures, recording videos, previewing the images and getting comfortable with the camera. The other modes were also listed in separate sections in the user manual in an organized manner, such as Aperture-Priority, Shutter-Priority, etc.
And of course, I was taking my first photography class, which was assisting me getting comfortable with the camera functions one step at a time. I found that the neat thing about this camera is that you can quickly dive in and start shooting in Guide Mode, even if you're not an expert yet, and without feeling too overwhelmed with anything complex.
And it was only a matter of time before I started trying out these other modes, and learned about taking self-portraits, adjusting the ISO, how to shoot in manual mode, how to freeze movement with the proper shutter speed, and much more.
The camera has the capability of editing your photos through a retouch menu, where you can find a variety of different effects and tools such as Quick Retouch, Straighten, Resize Selective Color, Miniature Effect, and Color Sketch.
Taking photos
This dslr camera has a good auto-focus feature. When looking at an object through the viewfinder, you simply hold down the shoot button halfway. These red dots will light up in the viewfinder for you to see, indicating which area in the frame it's focused on. And from there, you're ready to snap the photo. The autofocus will also maintain the current setting even when shooting continuous shots, so you don't have to keep checking your focus each time.
The camera's 24.2 megapixels with DX-format CMOS image sensor will produce some quality images. Even using the 18-55mm lens that was included with this package, I can achieve maximum shallow depth of field that this lens can provide. Even in manual mode with my zoom in as close as possible, my aperture may drop, but I can still properly adjust my shutter speed and frame my shot to take some great photographs.
Pros
Excellent image quality
Small lightweight body
Noise is well controlled throughout the ISO range
Audio jack for external microphone
24.2 megapixel camera along with 1080p output – it has a HDMI port on the side which allows you to put it out to an external monitor
921k dots LCD Resolution
Optical Built-in Viewfinder
1920 x 1080 Max Video Resolution
Long Battery Life (540 shots)
Cons
It doesn't have a head phone port, so you can't monitor the video
Since it's an entry level camera, you can only record for 20 minutes maximum
Small Viewfinder
Fixed LCD Screen
Complicated menu system
No Wireless Connection
No auto exposure bracketing or optical depth-of-field preview
No built-in AF motor so can't auto-focus with non AF-S lenses
Verdict
For beginners deciding on an entry-level dslr camera, the Nikon D3200 is a good choice for those looking to capture some impressive images at a decent price. Though it's missing some premium features, like WI-FI, articulating display, and a touchscreen, the Nikon D3200 still has great image and video quality, along with a guide mode and options for beginners who are looking to explore both manual and semi-manual exposure modes once they're comfortable with the camera.
I hope this review has been helpful anyone looking to invest in their first dlsr camera, or trying to decide on the Nikon D3200. I like to hear everyone's thoughts, questions, or comments below.