My Favorite Sports Images Of All Time
It's been a good three to four months since I've been teleworking and spending a lot of time at home, lacking any good opportunities for photography. 
I have been going out and keeping proper social distancing when I'm going outside, whether it's to the store, out running or driving about. But the problem has been that the majority of individuals are at home, as a part of these lockdowns for one reason or another. There aren't that many live events going on, hardly anyone walking around for any good street photography  – with the exception of empty landmarks. 
Spending a lot of time indoors recently has allowed me to work on updating a few of my skills rather than taking actual photos, like taking online courses, editing some images in Photoshop, or taking some still life images. In fact, I even started working on some of my first flat lay images and I'm still learning to be creative and taking some quality images that I can upload to Pinterest and Instagram.
One of my biggest hobbies has been sports, although recently, the lack of sports during this pandemic hasn't given us many options on television beyond streaming movies and podcasts. But then I got the idea of going to Google and Youtube and streaming some past games, like college football replays, past Super Bowls, World Series, etc, and started remembering some of my past memories from watching sports or attending a sporting event. 
This got me thinking and I started googling, "What are some of the most iconic sports images"?
Being a sports fan all of my life, and a historian, there are a ton of moments that I can recall growing up from gaming homeruns in the bottom of the ninth inning, world series moments, nba finals, Super Bowl moments, college sports and others. And of course, I can't just rely on my own experiences, because there are some great moments that took place in sports long before I was born that I shouldn't overlook.
What makes a great sports image?
First, I want to make sure I determine what I'm looking for. What makes a sports image iconic? What separates it from the millions of other images taken over the years on the internet, newspapers or sports magazines?
 There are sports images which are clearly action shots captured in a game or match, and there there are sports moments, where it's not necessarily during a game, but perhaps before or after, or maybe even the aftermath of an event.
Another thing is that it has to tell a story. No one wants to just see a person standing there at the foul line in a basketball game, a golfer just standing as still as a statue before taking a birdie – that's just plain boring. There needs to be a story behind it, in a big moment in time, perhaps some tension, drama, emotions, success, failure or even some sense of anonymity, where we don't know the exact outcome.
Here are some of my favorites below: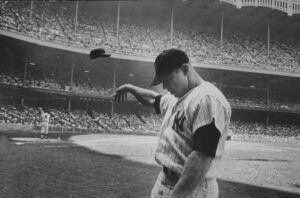 Mickey Mantle tossing his helmet
This image was taken in 1965 when baseball legend Mickey Mantle was past his prime, dealing with injuries on the field and alcoholism off the field. John Dominic was the photographer of this powerful image that captures a great player in his tragic decline, while still holding onto his career and personal pride.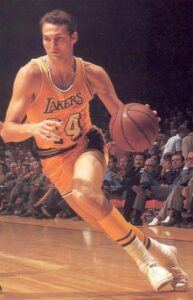 Jerry West
The above image is an in-game shot of Los Angeles Lakers legend Jerry West dribbling towards the basket. It may seem like just another average action shot of an athlete in motion, but this image is actually the silhouette that is currently used for the NBA's (National Basketball Association) logo. Similarly, Major League Baseball would take a similar approach when redesigning their logo in 1969, hiring Alan Siegel for the design process using a silhouette the previous year.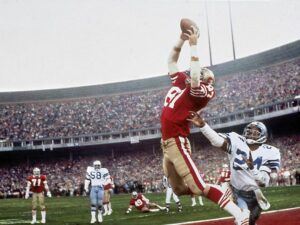 The Catch
This image, simple known as "The Catch" was the game winning touchdown reception in the 1981 NFC Championship game between the Dallas Cowboys and the San Francisco 49ers.  Though it appears that quarterback Joe Montana was throwing the ball away, receiver Dwight Clark leaped as high as he could only to get his fingertips on the ball for one of the most memorable plays in NFL history.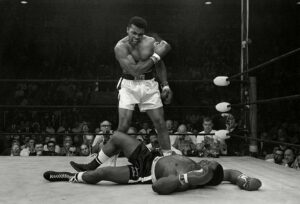 Ali knocks out Liston
Photographer Neil Leider captured his shot in May 25, 1965 between boxing heavyweights Muhammad Ali and Sonny Liston. It was a rematch of a an earlier fight between the two boxers with Ali had won, except this time around, he scores an early first round knockout over Liston in dramatic fashion, with Ali standing over Liston and yelling at him to get back up.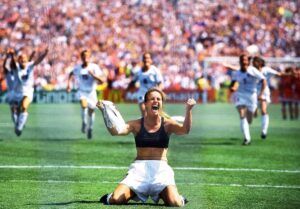 Brandi Chastain's Goal
On July 10, 1999 American soccer player Brandi Chastain scored the fifth kick in the penalty shootout to give the United States the win over China in the FIFA Women's World Cup Final. Chastain spontaneously ripped off her jersey and fell to her knees and it has been considered one of the most iconic photographs of a female athlete celebrating a victory.
Conclusion
These are my first few images that have caught  my attention in this category, for various reasons. Like I mentioned earlier, each one is telling a unique story in some way with some dramatic impact. It's not always about the composition, or framing any other technical details in photography.
I'll be returning with a second blog, or a part two, in this category with more sports images that I consider to be iconic.
Drop me a comment below and let me know what you think of my choices. Or what images do you consider to be iconic is sports history.
Thanks!