How to get started in Photography in 4 Steps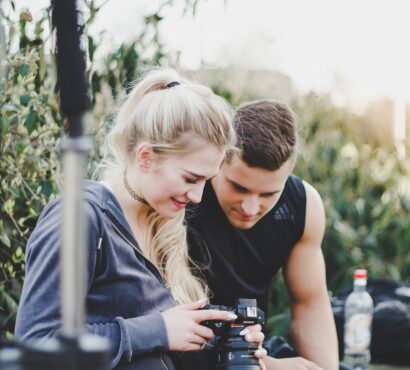 Hi Everyone,
It's been a little over a year ago now when I started my online photography courses as part of my graphic design degree, and I feel that I've come a long way so far. One of the biggest takeaways that I've learned so far is about getting started in photography.
Years ago, getting started in photography may have been a big deal, as we didn't always have smartphones with built in cameras. You either had to rely on those disposable cameras from Polaroid from Walmart or own one of the higher name brand cameras, from Kodak or Fujifilm and rely on their intuitive snap-and-shoot features. This is what I did, as I knew absolutely nothing about lighting, aperture or shutter speed.
But in today's world of smartphones, built in cameras, affordable dslr cameras that you can either buy or rent and of course, the internet and social media, getting started in photography couldn't be more accessible than it is now.
Finding a Camera
Well, you can't really start taking photos without a device. There are many great models out there from DSLR's to mirrorless from some great names such as Nikon and Canon. But chances are, you own a smartphone and use it every day to upload your selfies, vacation pics, or other images to Facebook or Instagram.
These smartphones phones are an affordable solution for those of us who can't really afford to invest several hundred dollars on a new camera – especially when you're new to the field and don't really know if it will be worth the investment in the long run. And the technology with some built in features are getting better and better than they have in the past.
Even if you were considering going the way of purchasing a new camera, there are some affordable, entry level cameras that cater towards the newbies interested in getting started, that you can find used, or refurbished and good prices.
Start Shooting
The second step would be to actually get out there and start shooting. Randomly looking for subjects would be one way for getting your feet wet. You can try this for starters, or perhaps narrow down to a particular subject and hone your skills in that area, like taking still life photos, or capturing landscape shots and sunrise or sunsets.
Sure, they may not turn out as you expect at first. I know one weakness of mine right now is portrait photography, as I feel that I need to hone my skills concerning proper lighting, framing of the subjects in the image, and other issues that I've encountered. But the way I see it, the only way for me to get better is to either search online for some tutorials, take up some courses, or simply getting advice from others with more experience.
There's also a good amount of stock photo websites and photography forums that can help me find the right creative inspiration from others out there who've taken many images and posted them online.
Post Editing
After you've taken your first collection of images and ready to either add them to your portfolio, website, or post online, you might notice that there may be something off – such as an image being out of focus, or perhaps it's too dark and needs to be tweaked by raising the levels, exposure, or brightness. Or perhaps you want to sharpen it or add an effect to make it really stand out.
I discovered that this is actually normal. Everyone, including professional photographers, applies some form of post editing to their images before posting. Nowadays, there's plenty of software out there, for either Windows or Mac, available for his, such as Adobe Photoshop and Lightroom. As effective as some of these tools are, they are also a bit costly, with a steep learning curve. But fortunately, there are some good free alternatives that offer most of the same features.
Even on your smartphones, there's also many great apps that you can download from Google Play or the App store for some quick post editing as well.
Improving your skills
I think the most effective way to get better at any skill is through practice, and it can't be more beneficial than in photography. In fact, I've learned that the best way photographers hone their skills sets is by taking many images, whether they're good or bad. I've read somewhere that a photographer may take up to several hundred images and maybe a handful of them are worth keeping and editing. But the key is to keep shooting – even through the bad ones that are either underexposed, off balanced, or who knows what else it could be.
Sure, some of us can probably afford to take a few lessons on the side, through online courses, books and resources, or even a good mentor or other photographers through meetups. Maybe you could also take a look at their unique styles and find your own style to develop.
What do you guys think about these steps? I am interested in hearing your thoughts.
Thanks!